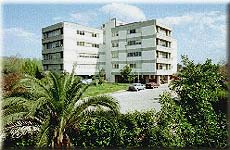 NATIONAL AGRICULTURAL RESEARCH FOUNDATION - INSTITUTE FOR OLIVE TREE AND SUBTROPICAL PLANTS
This email address is being protected from spambots. You need JavaScript enabled to view it.
The Institute for Olive Tree and Subtropical Plants belongs to National Agricultural Research Foundation (NAGREF). It is located in Chania, Crete and its main activities are related to research, education and training. Target groups are farmers, students and pupils.
Water is crucial for the development of the island of Crete, due to significant variations in water availability. The water demand is high during summer months in costal areas due to tourism and agriculture. Agriculture uses more than 81% of water and farmers usually irrigated empirically resulting in water loss (more than 25%). The Institute of Olive Tree and Subtropical Plants in cooperation with Local Water Boards and High Schools in rural areas organise courses and lectures in order to increase pupils and farmers awareness for water saving.
The role of the NAGREF-Institute for Olive Tree and Subtropical Plants in this project is:
- to suggest several methods and practices for water saving in agricultural sector
- to teach the farmers to use the innovative, water saving irrigation systems
- to produce informative material (leaflets, etc) for rational use of water